How To Enable Remote Desktop In Windows 10 Home (RDP)
Содержание
There is no Remote Desktop in Windows 10 Home. Since it was for home usage, Microsoft removed some features from Windows 10 home like group policy editor gpedit.msc and remote desktop RDP. These features are only available in the Pro and Enterprise editions.
Technology firms tend to reserve a few features for their premium offerings. Microsoft Windows 10 is no exception. Windows 10 Pro has more features than Windows 10 Home has but the former is also a costlier choice. The Home version has enough features for everyday users.
Connect and control network computers Desktop on your computer
Connect and control your computer (remotely access) from other computers over the network
Upgrading to Windows 10 Pro just to use a specific functionality is not wise and when there are so many remote desktop apps available on Windows Store. Nevertheless, nobody can rule out the sophistication of a native Windows tool.
If you go to Windows Settings app –> System –> Remote Desktop, connect to a remote system, you will see the following error message if you are using Windows 10 Home Edition:
"Your edition of Windows 10 doesn't support Remote Desktop"
Remote Desktop settings in Windows 10
Microsoft disabled the tool on Windows 10 Home but did not remove it entirely. With a workaround, you can still enable the premium feature reserved for Windows Pro users without buying an expensive license of Windows 10 Pro.
Trust me! You don't have to be a computer person or geek to make Windows Remote Desktop tool work on your Windows 10 Home PC. All you need to do is to download a file and install it on your Windows 10 Home PC.
Let's go through the steps involved to setup remote desktop in Windows 10 Home edition.
How to Remote Desktop Windows 10 Home?
The following steps will allow remote access to your Windows 10 Home computer remotely though the network.
. The specific filename is RDPWInst-v1.6.2.msi for automatic installation. Or you can also download the zip file RDPWrap-v1.6.2.zip for manual installation.
Extract the .zip archive to a folder and open the folder.
Open install.bat and then update.bat 'as admin'. Wait for it execute in command prompt.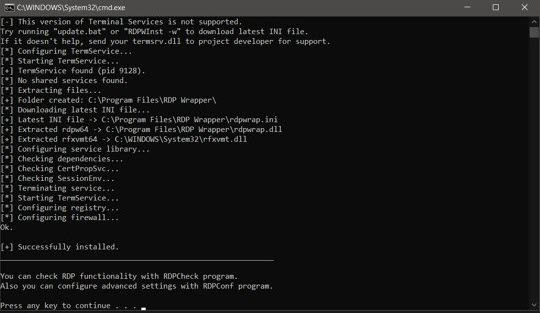 Install RDP Wrapper library
RDP Wrapper Configuration
Add a tick mark beside "Enable Remote Desktop" in System Properties. To go to this setting directly, go to Run –> systempropertiesremote.
System Properties Remote
Windows Remote Desktop Alternatives
While these steps are reasonable for most computer users, many people are not comfortable with the idea of patching their OS to add or remove features. At iTechtics, we suggest going for an inbuilt tool whenever possible over a third-party alternative. Nevertheless, there are tens of remote desktop applications available for Windows 10. You can use that application to establish remote connections to and from your PC without any workarounds. These applications also offer mobile and tablet apps. I will start with my personal favorite and the most popular one—TeamViewer.
Third-party apps also reduce the risks involved in enabling RDP port over the network. The native RDP app from Microsoft is vulnerable to all sorts of security threats especially when you allow access to your computer over the Internet.
TeamViewer
TeamViewer is one of the most versatile remote desktop applications available for Windows and all major mobile and desktop platforms. The best part is the application is free for personal and non-commercial use and allows instant remote connection between two computers provided both the computers have the application installed and configured to connect. It does not need any default port to connect to the computer remotely.
Anydesk
A potential competitor to TeamViewer, Anydesk is also free for personal usage is compatible with every device you can think of and it includes your Raspberry Pi in addition to usual mobile and desktop platforms.
Chrome Remote Desktop
For those who live and breathe in their Chrome browser or use a Chromebook, there is not a better option than Chrome Remote Desktop. A Chrome extension developed by Google itself, Chrome Remote Desktop mirrors your Chrome browser on any authorized PC, Tablet or mobile phone.
Microsoft Remote Desktop for Android
[appbox googleplay com.microsoft.rdc.android]
The same app can be used with Chrome on Windows 10.
Microsoft Remote Desktop app for Windows 10
[appbox windowsstore 9wzdncrfj3ps]
In Sum
The idea of using a pro feature on the Home version of Windows 10 without paying for an upgrade, while a fascinating idea, is a workaround at the end of the day. It might or might not work. While the contributors to RDP Wrapper on GitHub are doing an excellent job of keeping the library updated to absorb changes introduced by Windows updates, it is a cat and mouse game. They are not always on the same page. Going by the number of updates Microsoft is pushing to its Windows platform, it is hard to keep up.
If you're a business that relies on the Remote Desktop tool for business processes, the workaround isn't exactly a cost saver for you. I recommend you either upgrade to Windows 10 Pro or buy a license to one of the tools I mentioned above. For everybody else, I recommend giving this technique, to enable the RDP server on Windows 10 Home, a try before going for an alternative.

Источник: www.itechtics.com