Top 10: Maxi scooters 2020
Содержание
Maxi scooters are more than just a big engine popped into a scooter frame. These are machines that offer more comfort, space and storage, as well as being better suited to longer distance rides thanks to better weather protection. In this Top 10, we've homed in on the maxi scooters that will get you there in the most comfort and the best value. Some require different licence categories than others, so check your entitlement and take a test ride before you buy.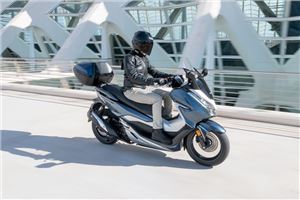 Honda NSS300 Forza
Licence category A2
The latest incarnation of Honda's NSS300 Forza is better in every respect than its predecessor. That's not to say the previous one was anything other than excellent, but it tells you this new Forza is brilliant. A little shorter and lighter now, it also has a riding position that puts you further forward in the frame for better control. Sharper steering also helps here, so the Forza now enjoys agility that puts its right up alongside the BMW C400 X.
Further helping the Honda's cause is the silky 279cc engine that makes any riding situation a joy. With a little care, you should see more than 200 miles per tank and reliability is a given thanks to the Big H badge. Plenty of kit is included in the price, encompassing an electrically adjusted screen, keyless ignition, traction control and more underseat storage than before. All in, this is a superb maxi scooter.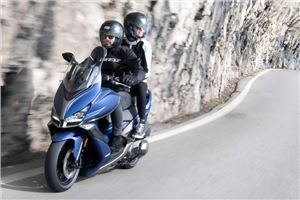 Kymco Xciting S 400 ABS
Licence category A2
Kymco is fast carving out a reputation for fantastic scooters at great prices and the Xciting S 400 ABS is the perfect example. Refined and improved over the Xciting 400, the S now comes with sharper looks, LED daytime running lights and Kymco's NooDoe mobile app that links your smartphone to the scooter so you can use functions such as sat-nav.
Other features that set the S apart are its adjustable screen, parking brake, rider's backrest and a motor that makes more power than most in this class. Together with the relaxed riding position and top drawer build quality, it turns the S into a machine ideal for all-year, all-round use that won't break the bank to buy or run.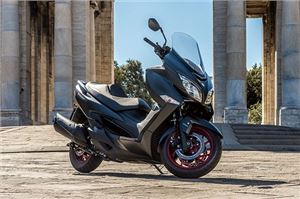 Suzuki Burgman 400
Licence category A2
The Suzuki Burgman 650 is considered by many to be the ultimate maxi scooter, but it's only available to those with a full category A licence. If you're on an A2 you're restricted to the 400cc Burgman, which is less plush but, fortunately, almost as practical, with loads of storage space and a thickly padded seat.
Under the seat, there's more than enough room for everything a rider might need, from a change of clothes to a work bag or even gear for a touring trip – and you can even keep your nav charged with a 12v socket. For an extra £500, you can get a Burgman 400Z, which includes a pillion backrest to make life easier for passengers.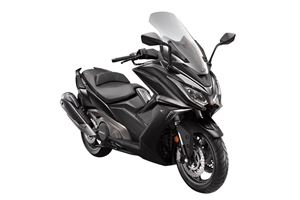 Kymco AK550
Licence category A
The AK550 takes Kymco into direct competition with some of the priciest and plushest maxi scooters out there, including the Yamaha TMAX and BMW C650 GT. None of this fazes the AK550 as it's fundamentally a very good machine. A little heavy when pushing it off the stand, that weight disappears on the move and the AK feels light on its tyres and nimble. The motor doesn't have quite the punch of the Yamaha's, but there are two riding modes – dry and wet – to help you out according to the conditions.
Kymco also loads up the AK550 with generous helpings of standard kit. The adjustable screen can be fiddly to move but works well once fixed in place and heated grips belt out the warmth on a chilly ride. Strong brakes, a well-padded seat and lots of storage, plus Kymco's Noodoe smartphone connection, all make the AK550 a compelling package.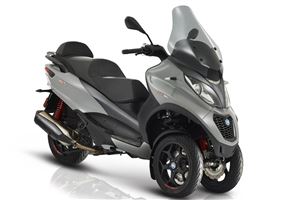 Piaggio MP3 Sport 500 HPE
Licence category A2
Piaggio isn't messing about where the MP3 Sport 500 HPE is concerned. The 493cc single-cylinder engine puts out 44.2hp to bring it close to the A2 licence threshold and it shows in the way this bike scooter builds speed. It doesn't feel especially fast off the mark, but it gains pace with ease, even two-up. It's also very compliant over bumpy roads and the twin front tyres give excellent braking and cornering confidence in wet or dry conditions.
The width of the MP3 can take a little getting used to as most riders will only be able to get one foot on the deck at a standstill. Piaggio fits its Roll Lock for this reason, letting you fix the bike in the upright stance so you can just sit there until you pull away. With plenty of standard kit and storage, the MP3 Sport 500 HPE is pricey but warrants the cost with its quality and ride comfort.

Источник: kit.honestjohn.co.uk